"If Trading is my Heart, Coaching is in my Veins!"
– Dinesh Dahivelkar
"Creating Sources of Extra Income and Unbeatable Capital Growth by Enhancing Financial Awareness, Skill & Competency through Industry Rated Highly Professional Financial Education."
"Making Participants 'The Rich' and 'The Wealthy'."
Experience:
He has been trading in Stock market since 2005 and tasted major Bull and Bear markets in last 18 Years. He successfully sustained in Bear Markets and bounced in Bull markets in Equities, Derivatives, Commodities and Forex.
He is having 6 years plus of working experience with Corporates, 2 Years of Technical Analyst position with HNI Portfolio of Rs. 2000 Crore and 10 Years Plus Coaching, Training and Mentorship Experience.
Best Training, Coaching and Mentorship:
Being Computer Trainer in 2004-2005, observed from 2006-2011 that Traders and Investors loosing hard earned money in stock market due to lack of Coaching, Training and Mentorship, so started "Stock Market Class" Training Institute in June 2011 and conducted training and seminars on stock market for benefiting thousands of traders.
Providing training over Stock Market Basics, Technical Analysis, Fundamental Analysis, Futures & Options and advanced concepts like Elliot Wave and Fibonacci Principle.
Best Story Telling:
Ability to explain very complex concepts into very lay man language by storytelling is the God Gift within him.
Energetic and Extrovert Personality:
He is just 36 years of Young and Energetic personality, he always personally ensures each Training Session with full of energy and sparing no moment for Boredom in classroom. Sessions are Knowledgeable, fully interactive with continuous Q&A rounds ensuring that participants are engaged in subject with his own personal interest without any kind of force.
He is fully confident and full of life, he always prefers to grow with all participants and not alone.
Always open up for supporting new and existing participants. He keeps personal touch with all participants joined since 2011.
Participants Reviews on Google
It's one of the unique offline classes teaches you from basics to Pro.. Your journey into the world of Finance & trading would be at different level once you attend, Listen & execute the knowledge given by Dinesh Sir.
His humble nature & readiness to help his students to grow in & earn money makes him a gem of a person. If you are interested to learn new skill and earn a side hustle.. visit once & talk to him...it will change your perception...
One of the best stock market class not only in Vadodara but in India, I must say. Worth worth to get knowledge from Dinesh sir, as he did the core study in share market as well as he has so many years of experience in this field & share his valuable knowledge to the students.
I must say if you take training from Dinesh sir & do what he says, you can be the billionaire. Trust me sir, you are the most outstanding personality I have ever met, as you give thorough training to the new bees of stock market..
Excellent design of course content &

great capability of transformation, leads to generation of successful Investors.

Thank you Dinesh sir. Value for money!!
Mr. Dinesh has an excellent grasp of the subject and explained the terminologies with examples in his unique style.
He provided fantastic overview of the trading scenario and invaluable practical tips and real life scenarios and experiences which immensely helps the students in journey towards trading.
In the limited time frame, real life trading strategies are taught, demonstrating the possibility of disciplined trading and risks management.
2004:
After completing Higher Secondary Education in 2004, started job of Computer Teacher at private firm but always thinking about Smart Money and High Income Sources. Due to limited of Financial resources not able trade in Stock Market.
2006: Started trading in Equity Market with Rs. 2000 only and that also borrowed at the rate of 3% per month and converted to 14000 in couple of months. Started preparation for NSE Capital Market exams.
2007: Started passing NSE Exams for taking entry in Corporates while pursuing Second Year B.com. Finally in 2007 after Graduating from M.S. University Baroda, joined India Infoline, but due to some reason within 3 month shifted to Religare Securities as Relationship Manager handling Equities and Derivatives Portfolios of HNIs.
2009: Earned Masters Degree in Commerce.
2010: Earned Post Graduate Diploma in Business Management from M.S. University, Baroda. Simultaneously Left Relagare Seurities and Joined Aditya Birla Money handling Equities, Derivatives, Currency and Commodities Derivatives Portfolios of HNIs.
2011: Subbrokership of Jainam Share Consultants and also started Training Institute "Stock Market Class".
2013: Along with Institute started working as Technical Analyst with Mr. Jayant Sanghvi of Pratham Enterprise valuing Rs. 2000 Crore Portfolio. 
Highly Educated Professional Coach and Mentor having  18 plus Live Market Trading and Training Experience of Basic Foundations to Advanced Technical and Fundamental Analysis in field of Stocks, Commodities and Currency-Forex. Also having good command over Wealth creation and Wealth Management through Insurance, Mutual Funds, ETFs and other Financial Instruments simultaneously.
Why to Choose us?
An ISO 9001:2015 Certified Institute.
Calculated Profit is Most Important than Fortunate profit.
We give Training Until Start Making Profit.
The Best in Class and Easy to understand Study Material in the Financial industry.
Teaching and Guidance by Experienced Financial Market Professionals.
Live market simulated Training to Make you 'A Perfect Market Trading Professional'.
Practical Training (in Stocks, Futures, Options, Currency and Commodity Market).
Learning at your Convenient Timing in Morning-Noon-Evening and Weekend Batch.
Integrity in all that we do, to achieve full potential.
Respectful Candor, our advice is clear and uncompromising.
Value-Added so everything is geared towards creating value.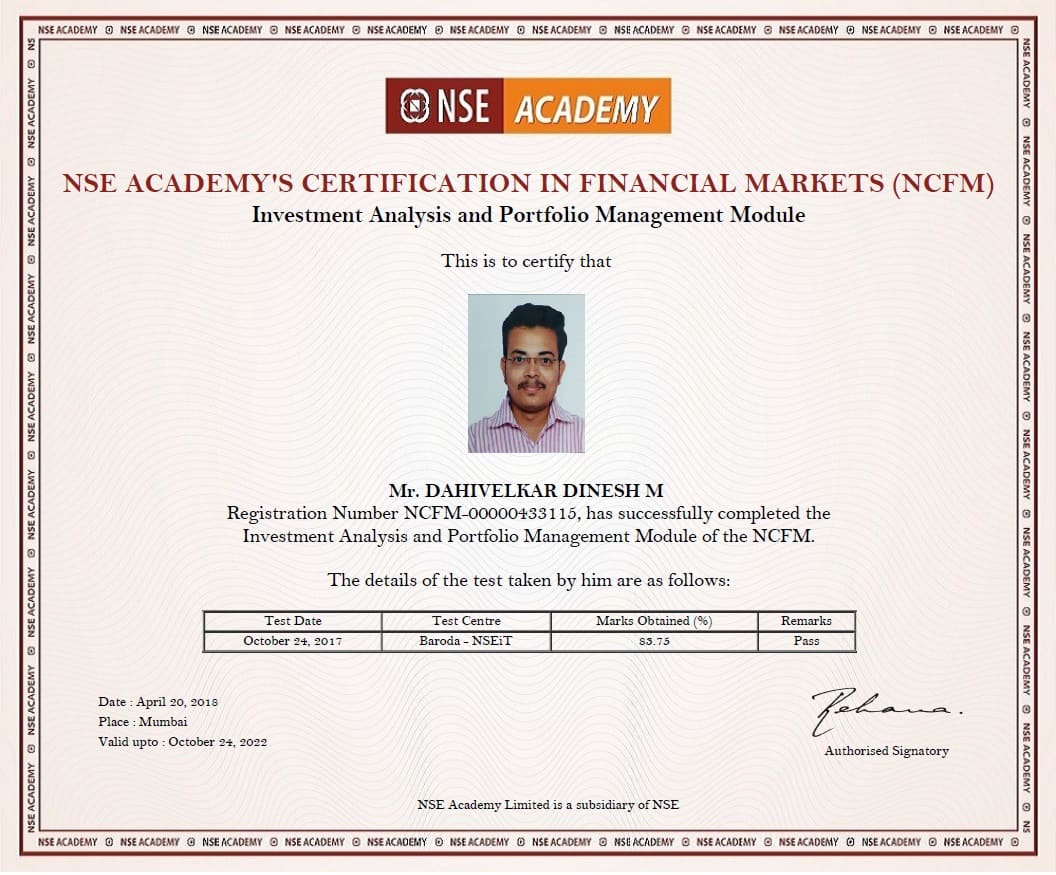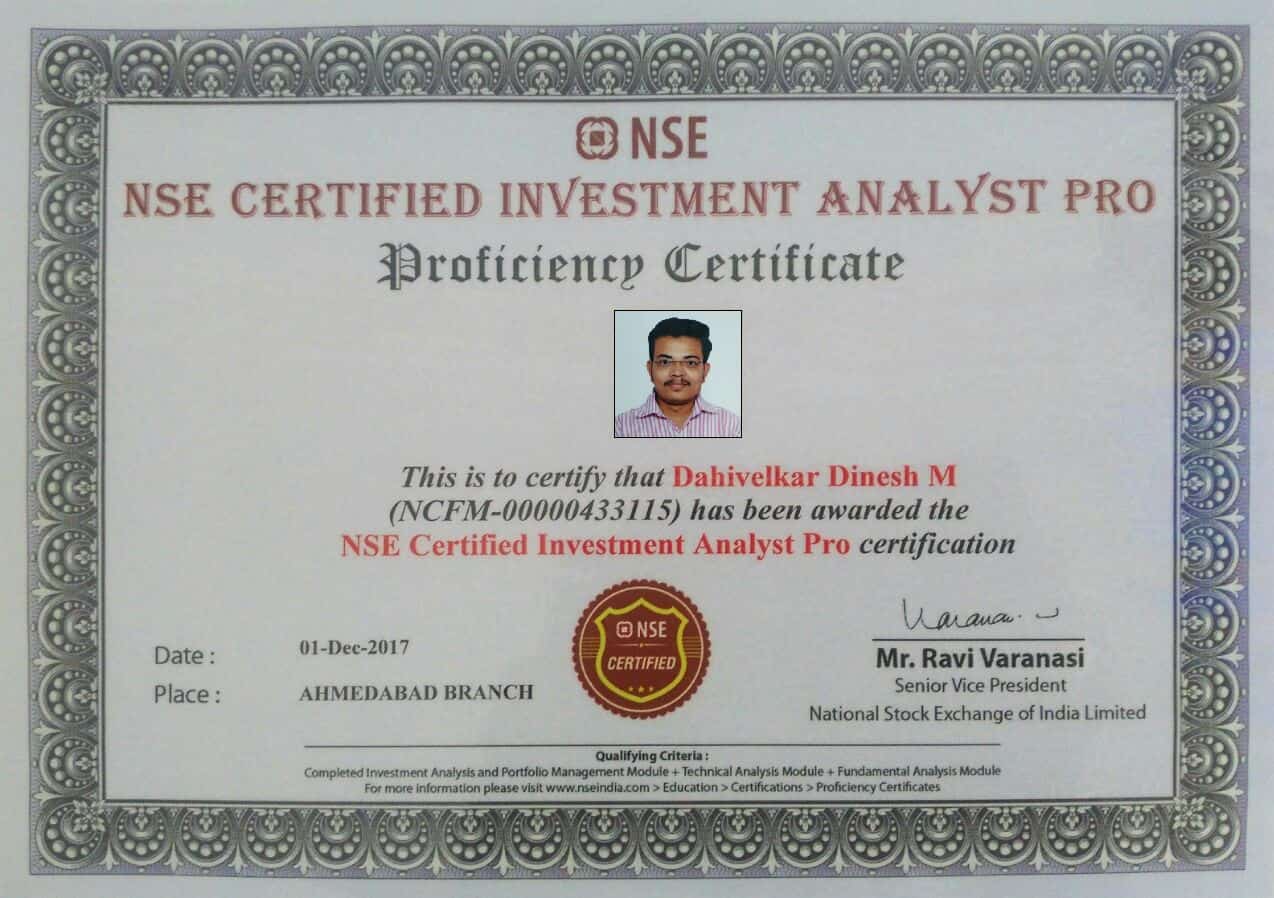 "We are an ISO 9001:2015 Certified Institute. We are the only Indian Institute which gives the Live Market Training to our Participants."